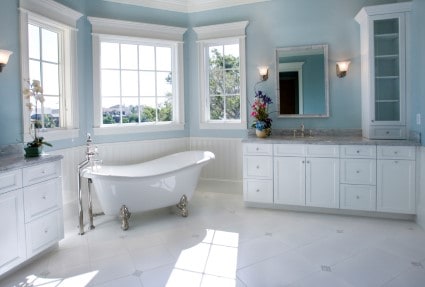 Stepping into the bathroom can be the perfect way to spoil yourself and get away for a needed relax and unwind session. And it's possible to do it without having to utter the words "Calgon, take me away!" What will probably help, though, are some of the more modern and flashy accessories and fixtures available for bathroom remodeling projects now from some of the most-trusted brands in the industry.
Starting up high, it seems like shower heads can do everything these days, with waterfall-style heads or full body spray heads that give a whole new feel to your boring old shower. Pedestal bathtubs are also a popular option these days for the unique look they give, which is a normal formed tub that sits on a single pedestal base.
Here at Ensor Plumbing also get a lot of calls about radiant floor heating and heated towel bars, which are becoming increasingly popular.
In the world of technology, smart tech devices are even moving into the bathroom finally. We had someone recently request a Bluetooth system that can remotely control lights, water temperature and pressure and more, so it's like the industry saw what Nest did with home thermostats and decided to bring those features into the bathroom.
When it comes to leading edge technology and devices we recommend people go ahead and get them to use on special occasions and we'll certainly help with their installation, but our focus is more on dealing with keeping the home's plumbing operating correctly.