Over 50 Years of Plumbing Experience
Ensor Plumbing is a 3rd generation family-owned, licensed, insured plumbing company that operates all over the Baltimore metropolitan area, including Columbia, MD. We've been serving this community since 1961, and we've worked hard for decades to build up a reputation as a trustworthy, dependable plumber who can fix any and all of your plumbing problems, no matter how tough.
When you call us, you speak to a live, trained technician, so you can be sure that you've gotten through to us and your problem is understood. Our plumbers are background checked, drug-tested, and up-to-date on the latest training, so you can rest assured that your job will be done with the highest standards of safety and quality in mind. And all our work is backed by a 100% satisfaction guarantee.
LEARN MORE ABOUT US
Residential Plumbing
Clogged drains? Leaky pipes? Leaky faucets? Low water pressure? No water at all? You name it, we do it. We can handle any plumbing problem you have in your home. For more information about our services, click below.
LEARN MORE ABOUT PLUMBING REPAIRS
Water Treatment
If your water is cloudy, tastes bad, smells bad, or seems unsafe to drink, call us now. We'll diagnose the problem and set you up with a water treatment system that will improve your water quality.
LEARN MORE ABOUT WATER TREATMENT
Water Well Services
If your well water system is malfunctioning or needs a tune up, give us a call. We've been doing maintenance and repairs on water well systems for decades. Call us to get an experienced plumber on the job.
LEARN MORE ABOUT WELL REPAIR
Water Heater Services
If your water heater is old, broken, or needs routine maintenance, call and set up an appointment. We know that not having hot water is a huge inconvenience. Call now for replacement or repair.
LEARN MORE ABOUT WATER HEATERS
Gas Line Repair & Testing
A faulty gas line is more than just inconvenient. It's dangerous! Gas line damage can lead to gas inhalation, fires, and explosions. If you think you have a problem with your gas lines, don't wait! Call us right away.
LEARN MORE ABOUT GAS LINE REPAIR
Hydronic Heating Systems
Heated floors keep your feet cozy and your rooms heated evenly. They're a great addition to any home. For more information about a hydronic heating installation project for your home, call us now.
LEARN MORE ABOUT HYDRONIC HEATING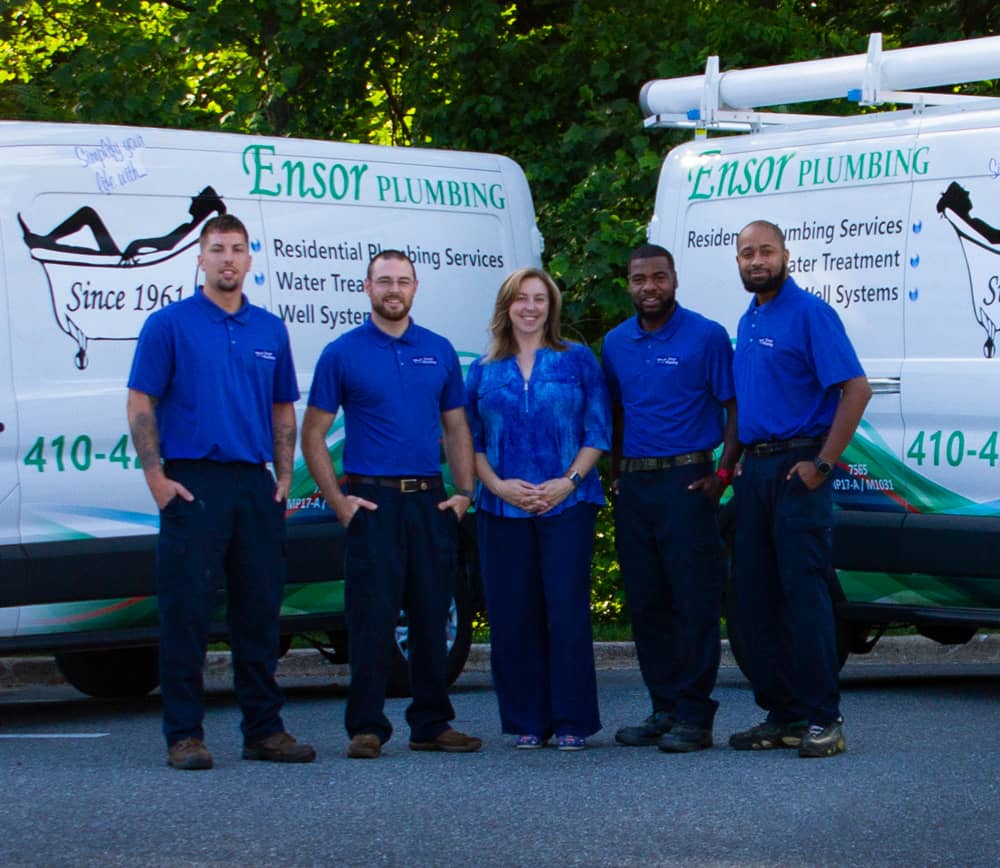 Why Choose Ensor Plumbing?
100% Satisfaction Guaranteed
One call is all you need to speak with a live, informed technician, no automated messages.
Background checked, drug tested – Your safety is our first priority!
Regular technician training – We send the best, most informed technician to your home.
Since 1961, 3rd generation, family owned
Always courteous
Fully insured
SCHEDULE YOUR APPOINTMENT
What Our Clients Are Saying
Really great service, reasonable, fair prices, and Danni was just wonderful! We will choose Ensor Plumbing for all our future Plumbing needs from now on. This experience has certainly earned our loyalty and repeat patronage! Thank you!!
Brand new customer. Really impressed with Ensor Plumbing and especially with Danni. Explained the problem clearly, answered all my questions, and gave me options and recommendations. A real pleasure to work with. Danni, thank you!
Danni was very patient with us and made great suggestions to keep in mind for the future. She also seems very knowledgable about the work she will be doing in my house.
Prompt, efficient and knowledgeable service from Jeff at Ensor. They offer a year-long maintenance package which I went ahead and signed up for, believing that my service needs can be entrusted to this company.
Our water heater broke. Ensor responded immediately and it was replaced within a few hours. Seth, the plumber who came, was fast, efficient, and was careful to keep the floors clean as he took old heater out and new one in (on a muddy day). Great experience.