RESIDENTIAL PLUMBING SERVICES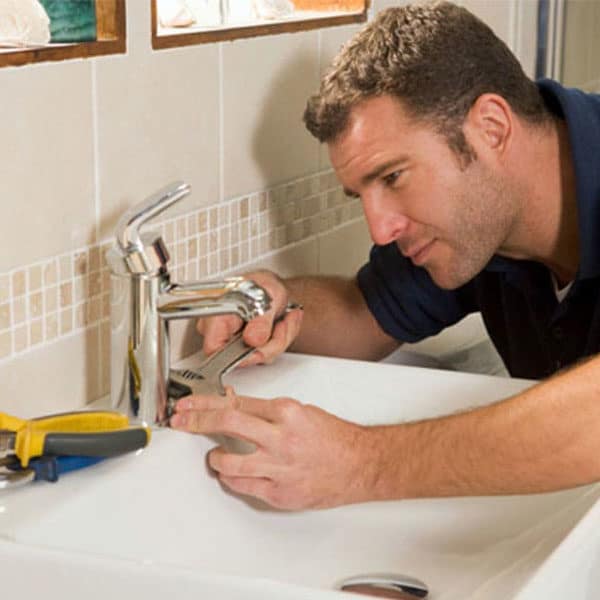 Residential Plumber
Serving Owings Mills, MD & All of Baltimore
Have you postponed your plumbing repairs for way too long? Do you have dripping faucets, no hot water, or some other plumbing problem in your home? Ensor's residential plumbing services can take care of your plumbing repairs today. Not every problem is an immediate disaster.
Our Baltimore area plumbers are your local residential plumbing service experts. We specialize in water filter and water well systems in addition to many other services.
We regularly deal with repairing pipes and fixtures such as toilets, faucets, bathtubs, and sinks, as well as water, gas lines, and sewage systems in buildings. Our residential plumbers can handle simple to complex repairs including well water repair and broken water heater repair.
We have the experience to help you with different situations including plumbing remodeling, troubleshooting, installation, water heater replacements, clogged drain cleaning, water treatment services, and more.
Give our residential plumber a call today for all your plumbing needs throughout Reisterstown, MD; Owings Mills, MD; Cockeysville, MD; Timonium, MD; Westminster, MD; Towson, MD; Nottingham, MD; Columbia, MD; Ellicott City, MD; Parkville, MD; Bel Air, MD; Forest Hill, MD; Halethorpe, MD; Fallston, MD; Baldwin, MD; Milford, MD; Millers, MD; Jarrettsville, MD; Pikesville, MD; Finksburg, MD; Ruxton, MD; Hampstead, MD; Sparks, MD; and the surrounding areas.
Reasons to Call A Residential Plumber
At Ensor Plumbing, we strive to help residents in the Reisterstown, Owings Mills, Cockeysville, and Timonium, MD areas with their plumbing needs. We understand that plumbing issues come in a variety of situations including leaky faucets and clogged drains to broken water heaters and well issues. Our residential plumbers have the knowledge and experience needed to help customers create an efficient system and keep water bills low. Some reasons to call a residential plumber include:
Leaky faucets - A leaky faucet might not seem like a big problem, but all those drips add up over time. If you let your leaky faucet go, you'll be surprised at how much your water bill goes up. Don't get caught by surprise. Hire us to come fix it.
Leaking pipes - A leaky pipe is a big deal for the same reason as a leaky faucet: all that dripping water adds up over time and can cost you big time when you get your next water bill. Depending on where the leak is, leaky pipes can also cause costly water damage to your walls, ceilings, and other areas of your house. Don't wait until a leak costs you lots of money that you don't have. Call us to fix it fast.
Clogged sinks - You don't really know how important your sinks are until you can't use one of them. A clogged sink can become a nuissance in a hurry. And DIY fixes can make the problem even worse if you don't know exactly what you're doing. If you've got a sink that won't drain, call us now to fix the problem professionaly.
Slow draining sink - A slow draining sink might not be a big problem to you now, but slow draining can quickly turn into a full-on clog as more matter gets caught on the blockage in your pipe and makes it bigger and tougher to remove. If your drains are slowing down, call us up to clean them out.
Clogged toilet - We don't think we need to explain why a clogged toilet is a big deal. If you've got a toilet clog that a plunger won't fix, call us now to get it fixed fast.
Faulty water heater - A faulty water heater is both inconvenient and dangerous. Not having hot water when you need it is a pain all by itself, but a faulty water heater can also leak gas into your home, leak water into your basement, make your water dirty, and cause all sorts of other problems that can damage your home and harm you and your family. Don't wait on a faulty water heater. Call us to diagnose the problem and fix it right away.
Sewer system backup - A sewer system backup can cause big problems in your home. The drains in your house can back up. Your house can start to smell like sewage. Your basement can flood. You won't be able to use the water in your house because your drains won't be working properly. And because sewer system backups are often caused by tree roots, big backups of debris, and other big problems with your pipes, you probably won't be able to resolve the problem yourself. We have the experience and know-how to diagnose and fix your sewer problem as quickly as possible. Call us.
Low water pressure - Low water pressure is annoying when you're trying to take a shower, but it can also be a sign of a much bigger problem with your pipes, the water supply to your home, or another problem with your home's plumbing. If you're not getting adequate water pressure, call us. We'll find out what's wrong and fix it.
Why You Should Hire Us For Your Plumbing Repairs
When you call us for plumbing repairs, you will receive the best services available in the Baltimore area. Our plumbers possess the skill and experience to keep up to date on the modern advancements in plumbing technology. From small to large troubleshooting jobs, you can count on us to complete the project successfully.
Our goal at Ensor Plumbing is to rid your home of any problems with long-term solutions. Contact our repair experts today to restore or remodel your home to its original safety comfort. We specialize in a variety of products and equipment and perform the plumbing repair job in a timely and professional manner.