ABOUT ENSOR PLUMBING
YOUR BALTIMORE, MD PLUMBING COMPANY
Our plumbing company started back in 1961, when Ensor, Sr. recieved his master plumbing licence and decided to go into business for himself. In 1973 Ensor's son Roger Jr. found an interest in the company and began learning the trade. Together they worked on acquiring wonderful customers and vendors that fueled their success. Their work ethic and love for the trade showed through to everyone they encountered.
Roger Sr. retired in 1982 leaving a very capable and passionate plumber, Roger Jr., to continue in his footsteps. Since that time Roger Jr's family has also joined the business. His daughter Stacey now owns and manages the business, while his son Seth is where Roger Jr. once was, learning the trade.
If you have any questions feel free to give us a call and be sure to speak with Stacey at 410-429-4959.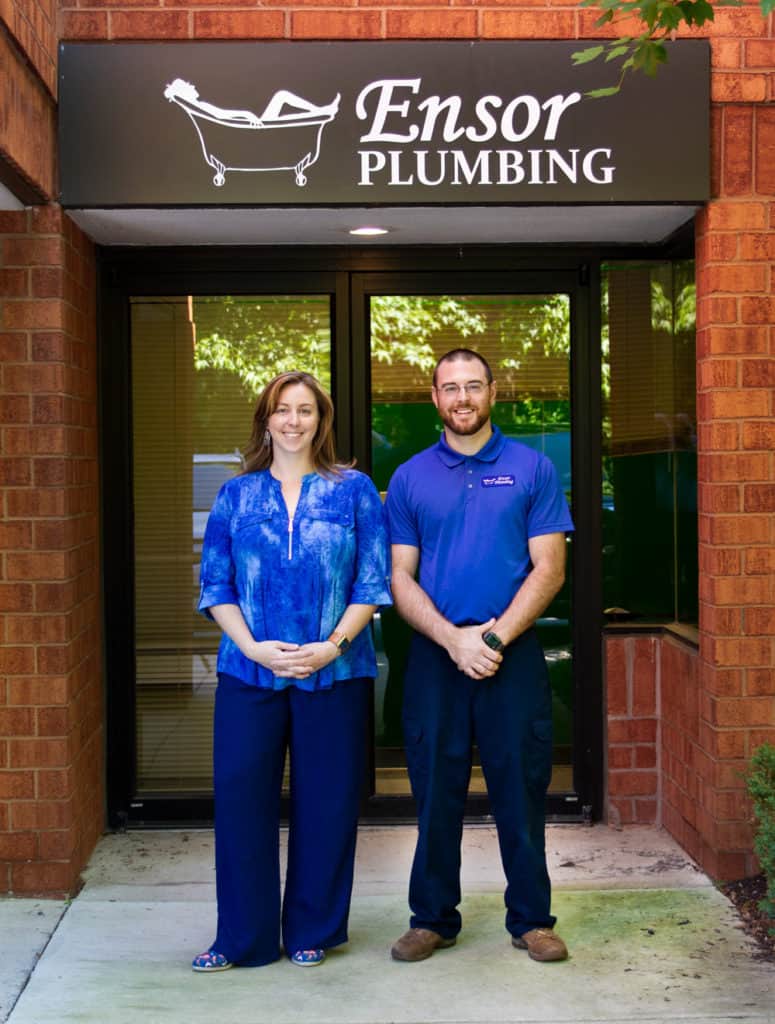 Services We Provide
Plumbing
Residential Plumbing
Drain Cleaning
Gas Work
New Construction
Home Remodeling
Well Pumps
Water Tanks & Controls
Automatic Waterer Repairs
Water Treatment
Neutralizers
Softeners
UV Systems
R/O Services
Heating
Hydronic Heating
New Construction
Home Remodeling
Radiant Repairs & Installation
Water Heaters
Stacey Ensor Goettner
President/Owner
In her role as President/Owner, Stacey works with our clients and employees to create job estimates, faucet/fixture planning and design, billing inquiries, seeing to it that job requests by customers are handled in a timely manner, material sourcing and anything else required. She builds relationships with employees, clients, and vendors to accomplish job management and performance needs. She also attends various vendor representative meetings throughout the year to stay abreast of new ideas, products and upcoming events that can contribute to our clients' success.
Stacey has worked full-time at Ensor Plumbing since graduating Towson University in 2004. She graduated with a bachelor's degree in Business Administration with a Management Concentration and she continues to help bring Ensor Plumbing into the 21st Century.
Stacey lives in White Hall, Md., with her husband, son, dog and two cats. She enjoys time with family and friends, camping and being outdoors.
Roger Ensor, Jr.
Consultant
In his role as Consultant, Roger works with our clients and employees to create and maintain a company that meets ever-changing household needs. With technology changing daily he is constantly learning and familiarizing himself with the new up-to-date products. His experience over the years and ability to "think outside the box" is what allows him to be able to creatively problem solve any clients dilemma.
He has worked full-time at Ensor Plumbing since 1973 when he graduated high school and began working for his father. Over the next required 6 years of experience, 11,250 hours, coursework, and exam certifications he acquired his Master Plumber/Gasfitter License. Over the last 40 years, there is not much that Roger has not seen in the local residential plumbing and heating profession.
Roger lives in Reisterstown, MD, with two dogs and has two children, who have continued in his footsteps, and one grandson. He enjoys very long walks, playing with his equipment and being outdoors.
Seth Ensor
Lead Technician/Estimator
In his role as Lead Technician/Estimator, Seth works directly with our clients and employees to facilitate an amazing customer residential plumbing service experience. He provides up-to-date training for all of our technicians so that our clients have nothing but 100% satisfaction and excellent service.
Seth has worked full-time at Ensor Plumbing since he graduated from Franklin High School in 2008, working and learning alongside Roger Ensor, Jr. Seth has successfully completed 4 years of Apprenticeship through the PHCC and received his Journeyman Plumber/Gasffitter License.
Seth lives in Owings Mills, MD and continues the family business following in the footsteps of his father and grandfather before him. He enjoys spending time with his wife, camping and being with family and friends.
Know Before You Purchase
No one dislikes sticker shock more than we do, which is why we train our technicians to diagnose the problem and explain what your plumbing job will cost in advance. We provide repair and replacement options to solve your problem so that you can make an informed decision, based on your needs and budget. Giving you a quote "up front" means that you will never be surprised or caught off guard when the job is completed.