HYDRONIC HEATING INSTALLATION SPECIALISTS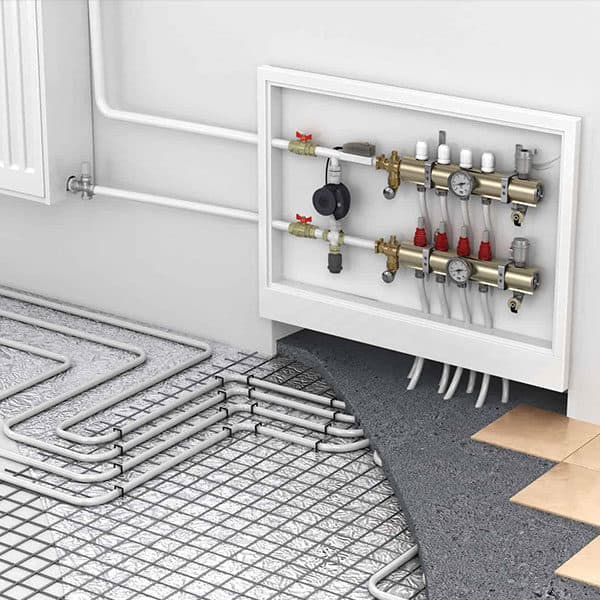 Hydronic Heating Services for Reisterstown & the Surrounding Baltimore Area
Have a tile or hardwood floor you can't stand to walk across because they are so cold? Or maybe, you want efficient home heating and comfort, if that's the case your choice should be a hydronic heating system by Ensor Plumbing. This form of home heating is by far the most comfortable, healthiest, and most natural heating process available today. In fact, hydronic heaters have actually been around for centuries, dating back to the times of ancient Rome. They used hot gasses which were directed through channels beneath marble floors to warm them. Although using hot gasses through channels is not a viable option for most of us today, the installation of these systems and hydronic floor heating lines is very much available.
Call Ensor Plumbing today to discover the best setup for your home. We offer hydronic heating services in Reisterstown, Owings Mills, Cockeysville, Timonium, MD, and all communities in the surrounding Baltimore area.
Radiant Heating
Radiant heating heats the entire room evenly, while keeping tile floor warm to walk upon, and not drying out the air. In addition, forced air can be loud when the heat turns on and off, while hydronic heat works silently in the background.
What is Hydronic Heating?
Hydronic heating or electric heat is the transfer of heat from a warm surface to a cooler surface. The heat is sent through a space without actually heating the space itself. It only turns into heat when it comes in contact with a cooler surface.
With traditional forms of home heating, your skin is tricked into thinking that the living environment is comfortable, until your skin has to give up its heat to another object! These heating systems can be used under marble, tile, wood, carpet and concrete floors. It can also save you 20-40% over traditional heating systems. As an added bonus, hydronic heating eliminates the need for noisy fans, duct work and piping that a traditional heating system would need.
Hydronic Heating Systems
Your hydronic heating system can break down. Common causes are age and wear and tear. The older the system the more it may need repair or replacement. Ensor Plumbing repairs and installs these types of systems. We can install and repair various types of heating systems and piping arrangements.