Over 50 Years of Plumbing Experience
When people in Timonium, MD need a trustworthy plumber who can get the job done right, they call Ensor Plumbing. We're a licensed, insured, family-owned plumber who has been serving the Baltimore area, including Timonium, since 1961. Ever since we first opened, we've made it our mission to build a reputation as the plumber of choice for anyone in Timonium with any kind of plumbing problem. Big or small, we fix them all!
When you call Ensor Plumbing, you speak to a live, trained technician. Our office is a No Machine Zone! You won't have to worry about your problem getting lost in the ether. Every one of our field technicians is background checked, drug tested, and fully trained up. We only send the best of the best out to your home. We take our reputation seriously, and we build it job by job by providing the best plumbing service in Timonium. We set our standards for safety and quality high, and we back those standards up with a 100% satisfaction guarantee.
LEARN MORE ABOUT US
Residential Plumbing
Leaky pipes, dripping faucets, clogged up toilets, and other household plumbing jobs are our specialty. No matter what plumbing problem you have in your home, we can fix it.
LEARN MORE ABOUT PLUMBING REPAIRS
Water Treatment
Don't wait if you think there's a problem with your water quality. Call right away to get it fixed ASAP. We have effective water treatment solutions for any home. Call to find out more.
LEARN MORE ABOUT WATER TREATMENT
Water Well Services
If your water well isn't performing the way it needs to be, call now for repairs. We know it's important that you get your water well back up and running as soon as possible, so call our experienced plumbers now.
LEARN MORE ABOUT WELL REPAIR
Water Heater Services
Not having hot water is a big deal. Call us now and we'll get it back on in no time. Whether your water heater needs to be repaired or replaced, our expert technicians will get it done fast.
LEARN MORE ABOUT WATER HEATERS
Gas Line Repair & Testing
Do not put off fixing a possible gas line problem. The results could be dangerous. Even deadly! If you think you have gas line problems, call us right away for a thorough inspection and repairs.
LEARN MORE ABOUT GAS LINE REPAIR
Hydronic Heating Systems
Heated floors are great for warm feet and evenly heated rooms. If you've always wanted a heated floor system in your home, call us now. We'll help you decide if hydronic heating is right for you.
LEARN MORE ABOUT HYDRONIC HEATING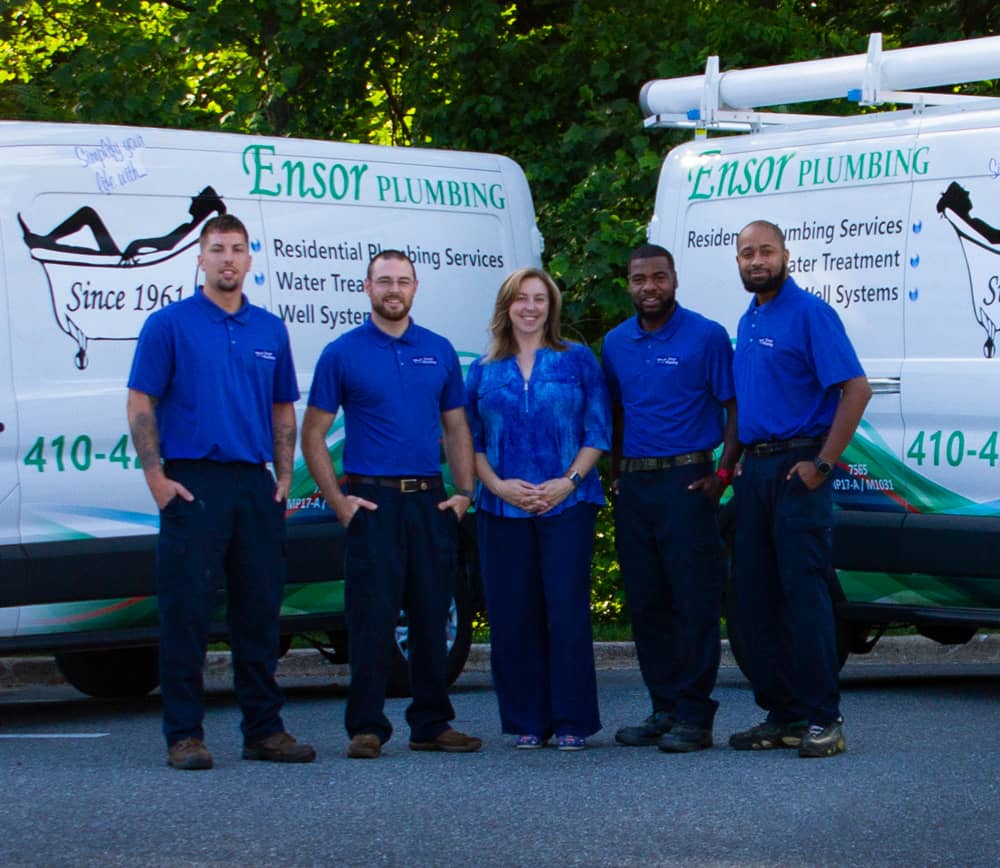 Why Choose Ensor Plumbing?
100% Satisfaction Guaranteed
One call is all you need to speak with a live, informed technician, no automated messages.
Background checked, drug tested – Your safety is our first priority!
Regular technician training – We send the best, most informed technician to your home.
Since 1961, 3rd generation, family owned
Always courteous
Fully insured
SCHEDULE YOUR APPOINTMENT
What Our Clients Are Saying
Really great service, reasonable, fair prices, and Danni was just wonderful! We will choose Ensor Plumbing for all our future Plumbing needs from now on. This experience has certainly earned our loyalty and repeat patronage! Thank you!!
Brand new customer. Really impressed with Ensor Plumbing and especially with Danni. Explained the problem clearly, answered all my questions, and gave me options and recommendations. A real pleasure to work with. Danni, thank you!
Danni was very patient with us and made great suggestions to keep in mind for the future. She also seems very knowledgable about the work she will be doing in my house.
Prompt, efficient and knowledgeable service from Jeff at Ensor. They offer a year-long maintenance package which I went ahead and signed up for, believing that my service needs can be entrusted to this company.
Our water heater broke. Ensor responded immediately and it was replaced within a few hours. Seth, the plumber who came, was fast, efficient, and was careful to keep the floors clean as he took old heater out and new one in (on a muddy day). Great experience.