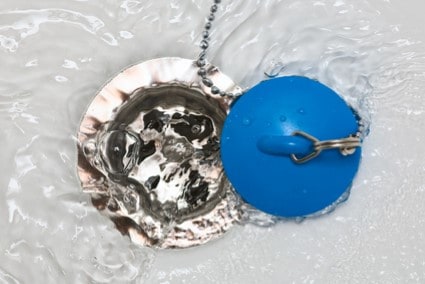 Clogged drains are a common household nuisance that almost everyone has to deal with. Food, hair, paper, and other materials commonly build up in kitchen and bathroom drains over time, eventually obstructing the plumbing almost completely. For most Maryland homeowners, the natural response to a clogged drain is to deal with it themselves, using store-bought drain cleaner. Although this is a popular method, it's not always the best choice. It's often safer and more effective to go ahead and hire an expert. The drain cleaners you buy at the store are dangerous, corrosive substances that aren't exactly safe to use or keep around the house. They also may not fix the problem entirely, meaning your drain will quickly clog back up again. Calling a plumber will get you better results that last longer, as well as removing potential health risks that could threaten your safety.
The Problems with Drain Cleaners
There are many common products you can buy to clear out a clogged drain. The problem is that many of these substances are highly toxic and corrosive. Drain cleaners are some of the most toxic, nasty household cleaning supplies out there. They commonly contain ingredients like sodium hydroxide, also known as "lye," which are incredibly corrosive and can cause chemical burns, respiratory irritation, and other health effects. These are materials that can literally burn your skin on contact—take care not to accidentally splash yourself with it. Drain cleaners are especially dangerous when there are young children in the house. If these chemicals mix with other household products, they can release potentially deadly gases and fumes. In addition to being dangerous, drain cleaners may not even be nearly as effective as marketers would like you to believe. They may even damage your plumbing. For many cases of stubborn clogged drains, it might make more sense to call in an expert plumber in the Maryland area to safely take care of the problem.
Bring In an Expert
When you call a professional to unclog a drain, they don't just pour chemicals down into it to dissolve whatever's in the way. It's far more common for Maryland plumbers to use a device called a "motorized drain augur," better known as a "drain snake." These long, flexible metal devices can easily clear out hair and other common causes of sink and drain clogs. Sometimes, a plumber might also use cameras mounted on fiber optic cables to get a direct look at what's going on inside your drain. For severe clogs, a hydro-jetter is used to blast high-pressure water down drains, clearing out any and all obstructions. Overall, professional drain cleaning is safer, cleaner, and more precise than using Draino or similar products on your own.
Even with good prevention habits, clogged drains are bound to happen from time to time. Next time your drain's clogged, think again before reaching for the bottle of lye-based drain cleaner. You might have better results— and keep yourself safer— by calling the clogged drains experts at Ensor Plumbing.