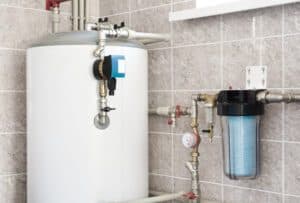 Ever tried to describe the strange noise your car has been making to your mechanic? Automobiles have a way of letting you know when something is loose. And we at least have that "Check Engine" light on our side. But unless your water heater has been making some scary banging noises, you may not realize there's trouble ahead! And for all their state-of-the-art goodness, they don't come with a "Check Engine" light! Vigilance and knowing the symptoms before it fails – that's the key!
Here are four signs your water heater may be ready to give up:
1. The Hot Water Isn't HOT!
Well, duh! But hang on… If the water in your tank won't get hot or runs out quickly, it could simply mean a fuse or circuit breaker has blown. However, it could also mean the heating element is failing. If the problem is not with a tripped breaker, schedule an appointment with a water heater repair professional (like Ensor Plumbing) to diagnose the problem. We want you back in hot water…in a good way!
2. The Water Smells or Tastes Bad
If your water has a metallic taste or smell, it indicates the water heater liner may be starting to decay. Blech! This is more than an annoyance: it means complete failure and possible flooding is imminent, so consider scheduling a plumbing service as soon as possible.
3. There is Rust in The Water
Speaking of yuck, rusty or discolored water is another sign that the liner is corroding. It means the tank has reached the end of its life, and you should replace it quickly.
4. The Water Heater Had "An Accident"
If water is pooling around the base of your water heater, call for service immediately. Corrosion has caused a small leak in the tank, and if you don't replace the unit quickly, you might find the room flooded when the tank corrodes through completely.
If any of these danger signs are evident in your home, you know who to call! 24/7, we're there for you!
Ensor Plumbing is a 3rd generation woman-owned family business serving Reisterstown and area homes since 1961! Get to know us BEFORE you have a plumbing emergency. Call 410-429-4959 or request service right here from our website.