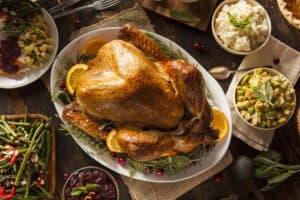 Thanksgiving is a wonderful holiday spent with the people we love. If you're like most people, your plumbing system is the farthest thing from your mind. The Thanksgiving holiday weekend is usually the busiest 4 days for every plumbing company. Clogged kitchen sinks are the biggest culprit. If you end up with a plumbing emergency, we will be at your door. However, here are some tips to avoid seeing your favorite plumber over the holidays.
Leftovers and Scraps
Scrape all food debris from the plates into the garbage can or compost bin. Your garbage disposal cannot handle large portions of food.
Put all grease and oil into a canister. Do not put these items down your drain.
Do not put coffee grounds, egg shells, rice, pasta, lettuce, potato, yam, onion, or carrot peels down your disposal. These items become wrapped around the disposal blades or may clog your drain lines.
Preventative Plumbing Maintenance
Boil a large pot of hot water and pour it down your drain before Thanksgiving dinner. This will help dissolve any existing debris in the drain line.
Put a couple of ice cubes in your garbage disposal and turn it on. This will help sharpen the blades.
Have your kitchen drain line snaked before Thanksgiving to assure you don't have a blockage waiting to happen.
If It's Water, It's Ensor!  Give us a call at 410-429-4959 and we can help simplify your life should any problems arise.  We are here for you, from all of us at Ensor Plumbing, wishing you and your family a happy and safe holiday season.