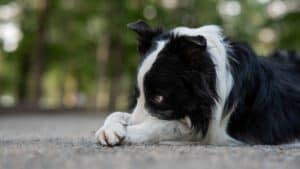 May we bark a little about pets and plumbing precautions, particularly since we at Ensor consider our pets to be part of our family just like you probably do?
Let's "go walk-ies" through a few important household tips where our furry friends are concerned. These tips will keep your plumbing up to par and your fur-babies purring.
Got Puppies or Kittens? Hide Exposed Pipes, Wiring, and Chemicals: Keep cupboards closed from curious cats and precocious puppies! Animals love to sniff, explore and chew anything they can get their teeth, paws, and claws around. While buying chew toys is one way to ward off their interest in household items, it's not a surefire cure-all. If you have any electrical wiring or pipes exposed to the open, be sure to close off access to them. And any chemical concoctions under the sink that can spill or leak are dangerous around pets. Use the same precautions that you might with a toddler!
Always Use a Drain Strainer: If that pet has fur, that pet will shed! And around bath time, not all that fur will fly! Next time you bathe your boxer or beagle, install a strainer on top of your drain. It will catch a lot of the hair. Just like human hair, pet hair will clog your drain, leaving it slow and, well, smelling like a wet dog!
A Bitter Litter Lesson: Plenty of cat litter products advertise they can be flushed, but many more, particularly the clumping varieties, cannot and SHOULD not be flushed. Our best advice? Don't flush ANY cat litter. Chances are high that it will clog your drains and sewer line, especially if you have a septic tank.
Slurp, Slurp! Tasty, Tasty Toilet Water: Why, why, WHY does your dog or cat drink from the nasty toilet? Mainly because they don't think of the toilet as a receptacle for human waste like we do. To them, it's a convenient source of cool, fresh, sometimes running water, which is exactly what they would seek out in the wild! Their animal brains consider it to be safer for drinking than warm, stagnant water. Think about the difference between a mountain stream and an algae-heavy pond and it's obvious this is a good strategy for survival. So speaking of strategies, here are two ways to keep your pet from drinking from the toilet:

Buy your pets one of those fountain bowls that filters the water and moves it around and
Keep the darn toilet lids closed!
On behalf of our company mascots and pets, thanks for stopping by our website! Ensor Plumbing is a family-owned business serving Reisterstown and area homes, families – and their pets – since 1961! Get to know us BEFORE you have a plumbing emergency. 410-429-4959. Or request service right here from our website.