Parking lots at the home and garden stores are packed every weekend now that summer is here. Ensor reminds you: you don't need to waste precious water in the process of beautifying your lawn and garden! 
We've been blogging about some water-saving tips lately, so we thought we would dig a little deeper into the lawn and garden aspects of How To Save Water. Here are more handy tips so you can keep your wallet as happy as your plants!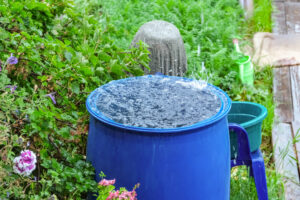 AVOID AFTERNOON WATERING

– Although you may be thirsty on a blazing hot afternoon, watering your plants at that time is a waste. When you water during the heat of the day, most of the moisture will evaporate before the plant can benefit from it, and you'll find yourself needing to give it more and more to keep it thriving. Best to water either early in the morning to leave enough time for the root system to absorb the water before the afternoon heat starts, or in the evening.

DON'T LET YOUR SPRINKLER SYSTEM RUN ON AUTOPILOT

– Monitor your system. When it turns on, notice where the water ends up. Have the nozzles gotten bumped so that you end up watering your driveway rather than the lawn? Do your sprinklers run so long that the grass gets soggy? Are you watering in the rain? Fine-tune your watering times according to the current weather patterns, the type of soil you have, and whether your plants are just starting out or mature.

INVEST IN A RAIN BARREL

– Rain is FREE! Store water from your gutters by using a rain barrel that you can either purchase or make yourself! There are lots of DIY videos online. To really make it pay, invest in a system that is

more than just an open barrel (which can invite mosquitoes and other bugs that like stagnant water), but one that typically has a filter on the top and a spigot on the bottom.

THANK YOU VERY MULCH

– Were you aware that applying mulch around the roots of plants or throughout your entire garden bed pot only discourages weeds, but also helps that area retain water? The mulch allows moisture in but slows the evaporation process. You can use pine needles, straw, grass clippings, leaves, wood bark, cocoa shells – even shredded tires!

SELECT MORE WATER-EFFICIENT PLANTS AND GRASS

– You'll water less if what you plant is more efficient!

Plants that use less water include:

Bermuda grass (for lawns)

Bermuda grass (for lawns)

Blue Spire (or Russian sage)

Daylily

Echinacea (a.k.a. coneflower)

Hydrangeas

Lavender

Rhododendrons (after they've had a few years to get established)

Salvia

Yarrow

Most fruits and vegetables do require a lot of water, but you can offset their thirst by planting drought-tolerant plants close by.
If You Need A Plumber, Call Us This Summer
Remember, if you need a plumber this summer or anytime, don't hesitate to call your Reisterstown neighbors at Ensor Plumbing. Get to know us BEFORE you have a plumbing emergency. And keep our number handy: 410-429-4959. Or request service right here from our website.