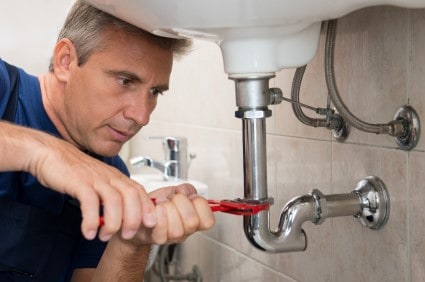 At Ensor Plumbing, we often see people at their most frustrated. They have a plumbing problem and they want it fixed – pronto. So if you want to see a plumber LESS, we understand. That's why we have some suggestions for things you can do on your own to make sure your plumbing conveniences are running smoothly!
For instance, keep your kitchen sink drain free of grease, fibrous food and anything that can gunk up or get wrapped around the blades of a garbage disposal. Pasta, rice and other foods that absorb water and expand are especially unforgiving culprits and it's best to just get those into the trash instead of feeding them down the sink and hoping nothing gets clogged. To get ahead of any potential problems it's always a good move to pour a large pot of very hot water down the drain to loosen things up, and grinding up some citrus peel or using vinegar ice cubes in the sink will help get rid of any lingering odors. Also keep a natural enzyme-based drain cleaner on hand – most plumbers advise against harsh chemical products – if things start draining slowly so you can nip that problem in the bud.
If you have a large family or a lot of houseguests, don't draw straws to see who'll be taking their shower last! Think ahead and stagger water use around the home as much as possible to keep anyone from having to take a chilly shower. Run the washing machine early in the morning or late at night and do the same with the dishwasher to keep the hot water flowing. If you're concerned that hot water will become scarce no matter what, there are accessories and add-ons for the water heater, like a recirculation pump that gets water to farther fixtures faster or a continuous tankless hot water heater that is sized for demand but will not run out of water.
Of course, plumbing emergencies do arise, and when they happen, Ensor Plumbing is ready to meet the challenge. We'll always arrive in a good mood and do our best to make you smile again.