How to Have a Holly-Jolly Stress-Free Holiday Season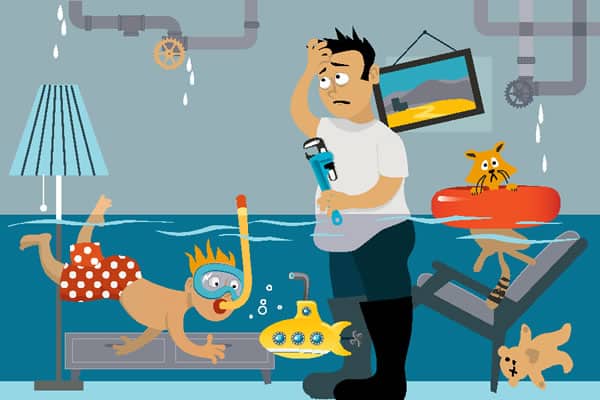 Okay, perhaps the title of this blog is a little misleading. What we mean is that your holiday can be stress-free as far as your plumbing is concerned! But, just like making sure the dog doesn't choke on turkey bones, the cat doesn't climb the Christmas tree, and the kids can't find where you've hidden the presents, it takes vigilance and some precautionary measures, so we've prepared these 5 tips:
Ensure everything is in proper working order and ready for guests ahead of time, including your pipes and water heater.
If you haven't had your water heater flushed in the last year, now's the time – before Aunt Mildred arrives! Attending to your water heater now will make sure you'll have enough hot water for extra baths and showers when relatives visit.
A few blogs back, we spelled out how to remove limescale. Acting on this now will keep your faucets and showerheads flowing smoothly.
Are your drains running slow? The holidays will only make that situation worse, because with extra guests comes more hair and soap scum in the bathrooms, and extra food waste in the kitchen drains! Clearing these drains before the holidays will keep your conscience clean! Make sure houseguests and party guests know the house rules: Don't flush wipes or feminine sanitary products, and to abide by kitchen precautions.
You probably have relatives who have "been throwing that stuff in the garbage disposal for years, and it never did any harm!" Well, diplomatically stress to them that, be that as it may, your drains are yours, and your rules apply. And here are the rules:
No peels, including carrot, potato or apple!
Nothing stringy like asparagus or celery – even when it's cooked!
No grease of ANY kind, solid or liquid!
No egg shells or coffee grounds.
No cheese,
No bread or pasta,
No bones!
Any of these items can lead to either a clog or build-up in the pipes that leads to a clog later on. So while a courtesy sign about non-flushables might work on the toilet tank in the bathroom, how do you enforce the kitchen rules? Keep a "compostables" bowl or receptacle for scraps near the food preparation area. This will remind your guests and "helpful hands" in the kitchen that not everything goes down the sink – even if you have a disposal. You might even tape a post-it note over the disposal switch as an extra precaution.
There is still time to ensure that your plumbing is in the best possible shape before your guests arrive. As much as we would love to see our friends and neighbors this holiday season, we want it to be a social occasion – not a plumbing emergency! But … holiday havoc happens! And if you need us, please don't hesitate to call!
Ensor Plumbing is a 3rd generation family-owned business serving Reisterstown and area homes since 1961! Get to know us BEFORE you have a plumbing emergency. 410-429-4959.Or request service right here from our website.