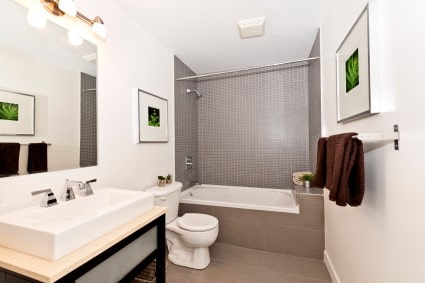 Is there anything less fun than dealing with a plugged up or broken toilet? Probably not, but here at Ensor Plumbing we're experts at handling that sort of thing. We've got some advice for how to get things running right and make sure you don't wind up with a big mess in the bathroom and beyond.
The first step in addressing a malfunctioning and leaking toilet is to flush and see where the water originates from – it will either come out around the floor or closer to the toilet tank. A plunger is the best first solution to clearing a stopped-up toilet but it's important to not use too much force caused by some "super" models of plungers, since you run the risk of blowing out the seal that creates an important seal at the base of the toilet. Damaging that piece can create another leak entirely and cause a whole new set of problems in the bathroom, so please be gentle. Since the water flows down the sewer, leaking toilets don't necessarily leave any signs of a leak, until you get the bill. The average leaky toilet can waste about 200 gallons of water per day. That's over 6,000 gallons a month ($70.06*) for just one leaking toilet! If you are on a well system you may even run your well dry with a constantly leaking or running toilet.
We'll obviously be glad to visit any home experiencing toilet issues and one of the key things our service technicians will do is inspect the full system to figure out if the toilet malfunction is tied to another larger issue elsewhere in the home. One possibility is that there's a water pressure problem going on, so we'll check the home's water pressure since that can create a cascading series of issues throughout the structure. For your plumbing system it's easy for a problem in one area to compound and make things go wrong elsewhere, the same way someone with a foot or a hip problem end up hurting their back because they're overcompensating while they walk.
Of course it's very possible that a toilet problem is just a toilet problem that can be repaired or in some cases require installation of a new toilet. There's not a good rule of thumb for how long a toilet will last because water quality is a big issue. We've had service technicians go into bathrooms where toilets from the 1940's or 1950's are still working fine because the home has good water and the toilets were well made. But when and if things go wrong, and your toilet needs to go, give our Maryland plumbers a call and we'll be right there to handle it and get everything back to normal and running right.