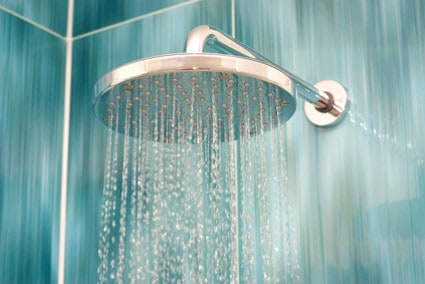 You can be friendly to the environment and save as much as $200 annually on your water and water bills! Simply invest in a water-saving shower head! Seems like just a few years ago you could either have a great shower or a water saving shower, but not both. But with recent innovations, you can have your long shower and heat it too! Shower heads are much more efficient at delivering the same feel of a strong pulsing shower but with less water, thanks to modern technology and improvements by shower head manufacturers. How much water can you save using a low flow shower head? You can cut your consumption by half! Without one, your usage is probably at the maximum allowable rate of two and a half gallons per minute. A low flow head can reduce that to 1.25 gallons!
Think about it: the average shower lasts 8.2 minutes. With a standard, non-saving shower head, you're using approximately 31 gallons of water per shower. If the water costs you about $2 per gallon and you have a family of four showering every day, that's around $60 per year. And if you're using a shower head from before 1992, some of those have a flow rate as high as 5.5 gallons per minute! Yikes! That means by simply upgrading your shower head, your family could save a cool hundred dollars per year just on shower water.
How much innovation can you squeeze into a shower head? Different designs and technologies move water into pressure chambers while a smaller head size still give you a satisfying shower experience, without the wastefulness. By saving water, you're not only saving money, you're doing the environment a favor by working to conserve this precious resource.
Using less water use means less energy used to heat your shower water. Again, eco friendly and reduces your power bills. So, how do you shop for the best low flow shower head?
Check the flow rate. The product information should list the flow rate of less than 2.5 gallons per minute.
Check the design. Does it use an air pressure system or does it simply have a smaller head? If you prefer a larger shower spray, go for the one with the pressure system.
Check the quality. Your fiends at Ensor Plumbing can point you to good suppliers or manufacturers, but read some product reviews for yourself. And always remember, although occasional bargains are out there, as a general rule, you get what you pay for.
Simply put, you can save water by the gallon with every shower, without taking a bath financially!