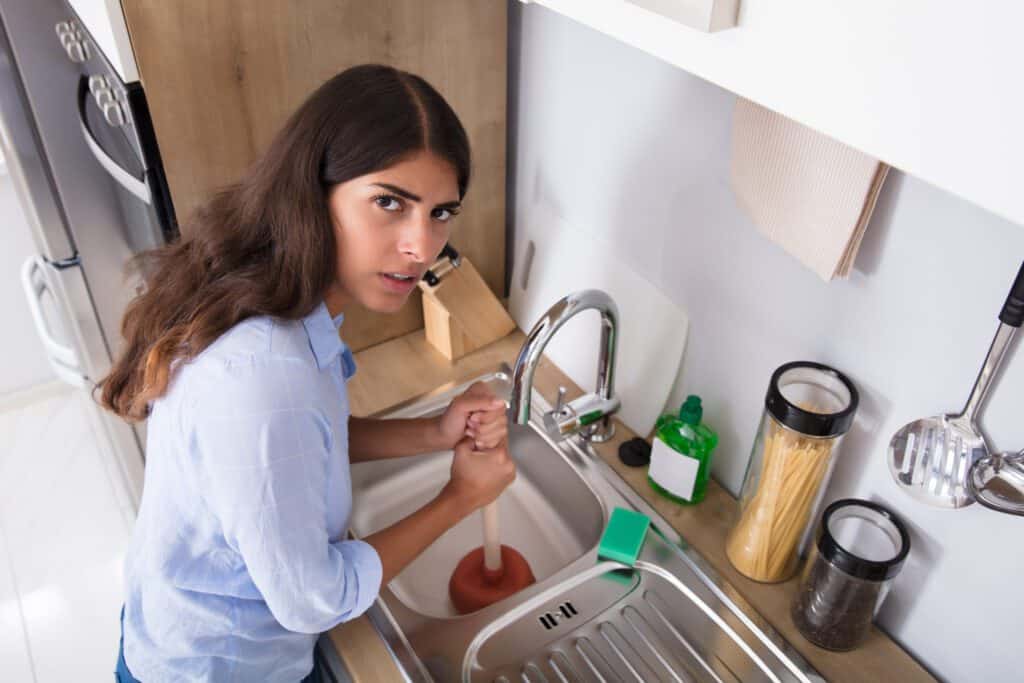 Your sink won't drain. All you get is bubble, bubble, you toil and sense trouble, to paraphrase the Bard. You probably already have everything you need to clean that drain in your kitchen. And it's – NOT – that bottle or canister of over-the-counter drain cleaner.
Instead, grab the vinegar and baking soda, put the kettle on, and let's get to work!
Step One: pour a pot of boiling water into your clogged drain.
Step Two: scoop between 1/2 and 1 cup of baking soda into the drain. Wait 5 minutes.
Step Three: pour a solution of 1 cup of vinegar and 1 cup of water down the drain.
Step Four: Cover with a drain plug (if you have one) and let the mixture sit for 10 minutes. Meanwhile, boil more water because…
Step Five: rinse the drain with another pot of boiling water.
Ta-da! You magically have a clean drain! Okay, so it's not magic. If you're one of those homeowners who need a peek behind the curtain of WHY this method works, here's the scoop.
The Answer Is SCIENCE!
When you added the acidic vinegar to the alkaline (or base) baking soda, you get a powerful chemical reaction that rocks sludge and debris off of your drainage pipe. All those bubbles that came out of your drain went to work so you didn't have to! Here's the thing: it's important to add acid to a base, but don't EVER add a base to acid!
So why shouldn't you use one of those drain cleaning products from a canister or bottle? Many liquid and crystalline drain cleaners are highly toxic and extremely corrosive. Over time, they will wear down your drainage pipe, causing cracks and eventually leading to water damage. Using vinegar and baking soda is a great way to avoid this and treat the environment correctly by using a much less toxic method.
So What If Your Drain Is Still Clogged…
Still gurgling, even after this little science experiment?  It sounds like it could be something more serious and reason enough to call in a professional from Ensor Plumbing.
Ensor Plumbing is a family-owned business serving Reisterstown and area homes since 1961! Get to know us BEFORE you have a plumbing emergency. 410-429-4959. Or request service right here from our website.